Youth Faith Formation
Confirmation Preparation Program and the Sacrament of Confirmation
Overview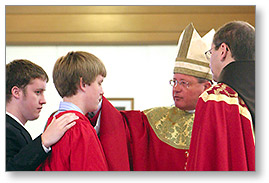 We are pleased to offer our Confirmation Preparation Program to catechized students who are entering into grade nine, who have already received the sacrament of Eucharist and are ready to explore the completion of their Initiation into the Catholic Church. During this process candidates are encouraged to explore their faith, ask questions and share challenges of faith as they commit to the promises of faith originally made for them by their parents and godparents at Baptism, which they will reaffirm in the sacrament of Confirmation.
The preparation process is over a minimum of a two-year period and is modeled after the RCIA process, involving the parish community and the greater community. Confirmation Year-One (remote preparation) is designed for our high school-aged candidates, exposing, reviewing and empowering them with the teachings and major tenets of their faith specifically preparing them for their second year and towards the Sacrament of Confirmation.
Candidates continue on their journey in Year-Two (immediate preparation) towards the Sacrament of Confirmation and beyond. Candidates experience God through ritual; reflect on the Rite of Confirmation; experience presentations and guest speakers that reinforce and enrich what is presented in the classroom.
Traditionally, the Sacrament of Confirmation at Saint Pius X Church is issued in the spring during a celebration of the Liturgy of the Eucharist with the Bishop of the Diocese of Norwich or his delegate. In keeping with the Catechism of the Catholic Church, this sacrament completes their Sacraments of Initiation. It is seen as not an end but rather a new beginning. Our newly-confirmed young people will be ready to live in a more intimate communion with Jesus, and with the guidance of the Holy Spirit, become active participants in living the mission of the Church, the building up of the Body of Christ.
Our programs are in full conformity with the current policies and guidelines of the Diocese of Norwich, Office of Faith Events and the Diocesan Sacramental Guidelines for Catechetical Leaders, made effective 11/10/15.
(Note: All packet documents below are provided as PDF files.)
Year 1 Packet (2021-22)
Year 2 Packet (2021-22)
Additional Info