Welcome
Saint Pius X Catholic Church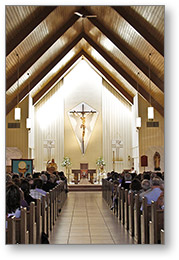 We extend a warm welcome to all who attend our church. We hope that you find our parish community a place where your life of faith will be nourished. We also hope that you will share your special gifts with the community. Your prayers, your presence, and your talents are most welcome. Please introduce yourself after Mass.
Mission Statement
We, a community of faith, have come together to respond to God's invitation to become holy by living the Gospel. We strive to do this through our awareness of God's presence, our sense of responsibility to one another, and our response to needs within and beyond the parish of Saint Pius X. "Love one another, as I have loved you."
(John 13:34)
Thinking About Becoming a Parishioner?
If you have attended a Mass at Saint Pius X, we hope you will return again soon. If you are new to the area and are looking for a parish family, please consider registering as a parishioner by calling the Friary Office and making an appointment.
Recommended ... Hallow App
One of the best ways to prepare for Christmas is to incorporate prayer into each day. This Advent,we're inviting you to join Hallow's #Pray25 Challenge: Journey through Salvation History featuring the cast of 'The Chosen'.
Hallow is the #1 Catholic app worldwide and includes 1,000 prayer sessions available for free, and over 5,000 audio-guided sessions in an upgraded premium subscription. Right now, Hallow is offering a three-month free trial. Fr. Ernie loves the app, and encourages you to give it a try.
Hallow is designed to help you grow closer to God and develop a daily habit of prayer, and includes prayers for kids and families, resources for mental health, meditations for sleep, seasonal music, multiple languages (including Spanish, Portuguese, and Polish!) daily trivia, podcast-style courses to learn more about faith, and more! To start a free trial, either go to their website: www.hallow.com, or take one of the flyers located at the entrances of the church. The flyers include a QR code to scan with your phone to download the Hallow app.