Adult Faith Formation
Confirmation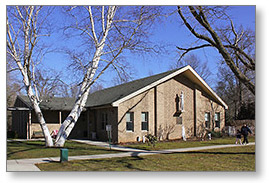 This program is for adults (over 18 years of age), who were baptized Catholic, received First Eucharist, and were catechized in the faith yet never received the sacrament of Confirmation for whatever reason. We offer a number of formation sessions which begin after Easter and then celebrate the Sacrament of Confirmation at the end of the Easter Season. The candidate must be practicing their faith to be eligible for this program. Contact the Friary Office at 860-347-4441 or
office@saintpius.org
RCIA
(Rite of Christian Initiation of Adults)
The Rite of Christian Initiation of Adults, is a process by which a person becomes a full member of the Roman Catholic Church. It is a process of prayer, discussion, study and celebration. Any person, who is not baptized, baptized from other denominations, or baptized Catholics who have not received First Communion or Reconciliation are invited to attend. Contact the Friary Office at 860-347-4441 or
office@saintpius.org
Bible Study
This group meets weekly, starting in the Fall and continuing until Pentecost. Meetings are held Wednesday evenings at 7:00 PM in the Faith Formation Center. Please consult the
Event Calendar
for exact dates. Contact the Friary office at 860-347-4441 or
office@saintpius.org
for more info.
Book Discussion
This group meets monthly to share experiences and insight with regard to a book they have elected to read. Contact Janet Maune at 860-635-6007 () for meeting times and location.
Centering Prayer
This group meets Wednesdays from 7:00-8:30 PM in the Faith Formation Building, and begins with 20 minutes of silence, which serves as a "resting in God" while consenting to His presence and action within each individual. Following this period of silence, we participate in Lectio Divina, praying the Scriptures by listening to, and reflecting on, the Gospel reading for Sunday's liturgy. Occasionally, the group views a DVD or discusses a selected book on some aspect of the spiritual journey, with an emphasis toward contemplative prayer. Contact Rosemary Hall at 860-632-3130 for more information.
Why Catholic?
The "Why Catholic?" program explores the Catechism of the Catholic Church. Rather than a total summary of the Catechism, it is a way for people to try to become more faithful to the teachings of the Church. Participants receive information and insight into core beliefs, the sacraments, morality, and prayer. Small groups meet in parishioners' homes during Advent and Lent. If you are interested, please contact the Friary Office at 860-347-4441 or
office@saintpius.org
.