About Us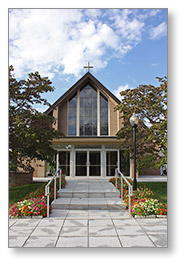 Founded by the Capuchin Friars of the New York/New England Province, and constructed in 1959, Saint Pius X parish was born of a spirit of cooperation, which is still very much alive in the parish today. The parish is still staffed by
Capuchin Friars
, and the Friary is also home to several retired and semi-retired Friars who are active in the church and surrounding community.
The Parish, which is part of the Diocese of Norwich, is home to many Groups and Ministries, and has excellent Faith Formation programs for both youth and adults. The Youth Faith Formation program is headed by two coordinators, and serves a range of children aged from preschool through Confirmation. Adult Faith Formation programs include Confirmation for those catechized in the faith but never completed the sacrament, and Rite of Christian Initiation of Adults for any person wishing to become a full member of the Roman Catholic Church.
There are several programs in which youth can become involved to both enhance their faith and socialize with their peers, including Youth Ministry and Peer Ministry.
Among the many Groups and Ministries at Saint Pius X is the Men's Club, which holds several family-oriented social events throughout the year, including: Easter Egg Hunt, Breakfasts, Family Bingo Night, Irish Night, trips to Minor League baseball games and golf tournaments, and an outdoor picnic.
Please take the time to browse this site and learn about all that Saint Pius X parish has to offer you and your family. We are glad you are here and welcome you to become a part of our family!