Meet the Friars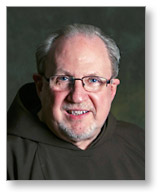 Fr. John Gallagher, OFM Cap
Fr. John was born in the Bronx, New York, and entered the Capuchin Order in 1971. He was ordained to the priesthood in 1978 and has served in parish ministry in Brooklyn and Yonkers, New York, and Manchester, New Hampshire. He has also served in Administration and Formation Ministry for the Province of St. Mary in New York and New England. Fr. John is currently the pastor of Saint Pius X Parish and Guardian of the Capuchin community.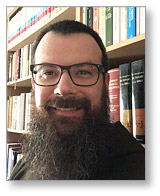 Fr. Scott Surrency, OFM Cap.
Originally from Florida, Fr. Scott graduated from the University of Georgia, then attended Yale, studying Italian literature. After teaching at Penn State for a number of years, he moved to New York City, where he eventually met the friars. A convert to Catholicism, Fr. Scott was invested in the Capuchin habit in 2011 and ordained a priest in 2017. Having lived in New Haven for seven years, Fr. Scott feels very much at home in Connecticut and is delighted to be a part of the Saint Pius X parish family. In his spare time, Fr. Scott enjoys reading, classical music, movies, visits to art museums, and walking.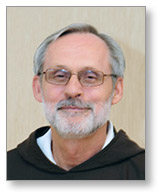 Br. Brian Champoux, OFM Cap.
Growing up in Springfield, Mass, Brother Brian is one of six children. At the age of 18 he started his six-month postulancy at St. Pius X Friary here in Middletown in February of 1968. After the provincial chapter of 1981, Fr. Don Bosco Duquette, the new provincial, assigned Brother Brian to Guam. In Guam he served as a formation director and as a teacher. Brother Brian is presently a volunteer at Saint John Paul II School, and also volunteers as a Catechist here in the parish.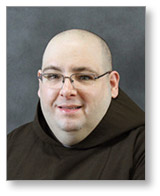 Fr. Ernest Bedard, OFM Cap.
Fr. Ernie is originally from Holyoke, Massachusetts. Fr. Ernie entered the Capuchin order in 2002, and was ordained to the priesthood in 2012. Following ordination, Fr. Ernie served as a parochial vicar at several parishes in Manhattan and most recently, in New Paltz, NY. Fr. Ernie is very happy to be here at Saint Pius X. As a New England native, he feels very much at home. In addition to parish assistance here at Saint Pius X, Fr. Ernie helps with Masses and Confessions at area parishes, convents, and schools. In his free time, Fr. Ernie enjoys both baseball and hockey, as well as walks at the beach.