Meet the Friars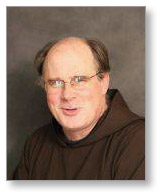 Fr. Martin Curtin, OFM Cap.
Born June 21, 1958, Madison Wisconsin
Parents: William and Mary Curtin of Storrs CT
Sister: Mary Ellen Curtin Goldgar Hopewell NJ
Education:
E.O. Smith High School, Storrs CT- 1976 graduate
Colby College - 1980 graduate
Teaching Certificate - UConn 1982
Theology Maryknoll School of Theology - 1990 graduate M.Div.
Capuchin Assignments:
Novitiate St. Francis Friary Garrison NY 1983-4
Philosophy - Manchester NH St Anthony Friary 1984-5
Theology - Mary Immacualte Friary Garrison NY 1985-87
Language School - Cochabamba Bolivia 1987 July-Dec
Internship, Diaconate - St Michael's Friary Brooklyn NY 1988-1990
Parish priest (vicar, pastor) Our Lady Quuen of Angels East Harlem NYC 1990-2001
Catholic Theological Union - Chicago 2001-2
Novitiate (Novice Master) Mt. Calvary Wisconsin 2002-4
Postulancy (Director) St Michael's Brooklyn 2004-6
Pastor Good Shepherd Parish Inwood Manhattan 2006-7
Formation Director, Jamaica Plain Boston MA 2007-2010
Parish (vicar then pastor) St Joseph the Worker, East Patchogue Long Island, NY 2011-2020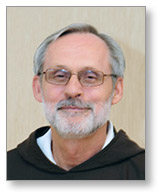 Br. Brian Champoux, OFM Cap.
Growing up in Springfield, Mass, Brother Brian is one of six children. At the age of 18 he started his six-month postulancy at St. Pius X Friary here in Middletown in February of 1968. After the provincial chapter of 1981, Fr. Don Bosco Duquette, the new provincial, assigned Brother Brian to Guam. In Guam he served as a formation director and as a teacher. Brother Brian is presently a volunteer at Saint John Paul II School, and also volunteers as a Catechist here in the parish.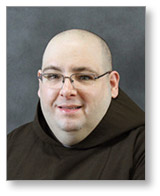 Fr. Ernest Bedard, OFM Cap.
Fr. Ernie is originally from Holyoke, Massachusetts. Fr. Ernie entered the Capuchin order in 2002, and was ordained to the priesthood in 2012. Following ordination, Fr. Ernie served as a parochial vicar at several parishes in Manhattan and most recently, in New Paltz, NY. Fr. Ernie is very happy to be here at Saint Pius X. As a New England native, he feels very much at home. In addition to parish assistance here at Saint Pius X, Fr. Ernie helps with Masses and Confessions at area parishes, convents, and schools. In his free time, Fr. Ernie enjoys both baseball and hockey, as well as walks at the beach.