Arrangements
Baptism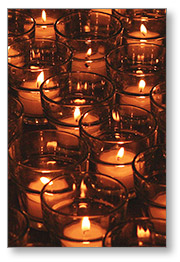 Baptisms are celebrated on the second and fourth Sunday of the month at 1:30 PM. (except during Lent). Please
contact
the Friary office for information and to arrange an appointment with a Priest. Preparation includes a registration meeting with the priest and participation in a preparation session.
More Info...
Marriage
Arrangements should be made at least one year in advance. Please
contact
the Friary office.
More Info...
Care of the Sick and Homebound
Please advise us of anyone from your family who is sick or hospitalized that we may keep them in prayer, visit them and celebrate the sacraments. Names for the public prayer list may only be submitted to the parish office by family in order to respect each person's wishes. Please
contact
the Friary office.
Funeral
Please
contact
the Friary office as soon as possible to inform us of a family death. Ordinarily, the funeral director contacts the parish to make appropriate arrangements. The priest celebrant will gladly meet with family members in order prepare the funeral liturgy.
More Info...
Mass Cards and Enrollments
These may be obtained, for the living and deceased, in the Friary Office during regular office hours.
Registering
Please contact the Friary office at 860-347-4441.