The Pastor's Desk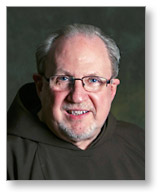 From the Pastor's Desk: – Easter Sunday of the Resurrection of the Lord
As surprising as it may seem, the resurrection of Jesus came as a surprise to his disciples. Mary Magdalen's first reaction was understandable: the body was stolen. After all, that's why they put a large stone in front of the tomb in the first place.

Peter and the Beloved Disciple saw the empty tomb for themselves but only one believed. St. John's gospel tells us that "they did not understand the scripture that he had to rise from the dead."

We live by faith but seek understanding.

Easter morning is the guiding light by which we live our lives. His destiny is ours. His new life will be shared by us who seek to follow him. This message of hope is meant for us who share the grief, sadness, and confusion of the coronavirus pandemic. Through eyes opened by faith, we are able to see much goodness and compassion on the part of so many people working to alleviate suffering and eradicate this disease.

On this Easter morning, may we be open to the unexpected ways that God may work in our lives!
Be assured of our prayers for the health and well-being of your family in these trying times and for those who are especially challenged. Until we can celebrate together again,
on behalf of Fr. Scott, the entire parish staff and all the friars at St. Pius,
may the Lord give you his Easter peace!
Covid-19
Update: The parish office will be CLOSED for public business as of April 9 until further notice. Please leave a phone message or use email (
office@saintpius.org
) or USPS for communication.

Someone will get back to you as soon as possible. Correspondence can be left in the key box at the Friary door. The parish priests will respond to any emergencies:

Fr. John - x104; Fr. Scott – x110. Unless we hear differently, our church will be open from 7am to 7pm to accommodate those who want to come and pray.
In light of "Stay Home, Stay Safe" norms we will "Live Stream" the following events on our St. Pius X Church Facebook (
https://www.facebook.com/saintpiusmiddletown
)
page.

The regularly scheduled Holy Week serviceswill be celebrated in private according to the norms distributed by the Vatican and Diocese on March 19 and April 1. Due to social distancing requirements, they are not open to the public:
Live Streaming on St. Pius Facebook Page:
·
Holy Thursday Mass of the Lord's Supper - April 9 at 7:30pm
·
Good Friday Service of the Lord's Passion – April 10 at 3pm
·
The Great Easter Vigil – April 11 at 8pm
·
Community Mass – Friars' Chapel, Monday through Saturday at 8:30am
·
2nd Sunday of Easter – Divine Mercy Sunday, April 19 at 9:00am
·
These can all be viewed at any time after they are recorded.
Alternate Resources –
There are many resources available to us in these trying times.
·
Mass from ORTV (Hartford) is broadcast 7 days a week; check local listings
·
EWTN – check local listings
·
The daily scripture readings can be found at
http://www.usccb.org
.
There are also audio versions and a brief reflection for each day.

You can sign up to have them emailed to you each morning.
Peace and all good things!

Fr. John