The Pastor's Desk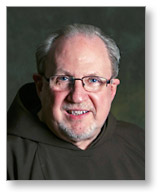 From the Pastor's Desk:
15
th
Sunday –
In the Gospel readings of July, Jesus makes extensive use of parables to teach us about the mystery of the kingdom of God.

Parables are also helpful because they are stories of the historical Jesus, the one that the apostles remembered and preached as a man and then as the Savior.

The parables reveal Jesus' experience of God and invite to us into his intimate relationship with God.

They are like windows into the inner life of the Holy Trinity that enable us see God from many perspectives.
The first reading today speaks of rain and snow watering the earth and making it fertile and fruitful.

The psalm speaks of the seed falling on the ground and yielding a fruitful harvest.

Jesus uses images of seeds and growth in the Gospel parable, and St. Paul, in the second reading speaks of "all creation groaning in labor pains as it awaits redemption."
The creation perspective reminds us of the moral obligation to care for and protect our environment.

St. Francis appreciated this when he referred to the sun, moon and earth as his brother, sister and mother.

Pope Francis has linked care for the environment with concern for the poor since it is the poor who suffer most when water is polluted, farmland ruined, and floods and fires destroy homes.
Likely, our lives, at different times, contain all of the kinds of soil mentioned in the parable.

When we receive our Lord and Savior into our hearts in Holy Communion, let us ask him to blossom forth that we may bear fruit for his kingdom, 30, 60 or 100-fold!
Public Weekend Masses
resumed as of July 4 – 5. For now, we will follow our regular schedule. The Governor's executive orders and Diocesan guidelines of May 27 and June 3 must be followed (e.g. face coverings must be worn, safe distancing practiced.)
There were only about 120 people, total, who attended the five Sunday Masses, so there was plenty of room to safe- distance in church.

We are only able to fit 64 people in church maintaining the 6-foot safe distancing.

Please be sure to sit with a

BLUE CROSS

at your back, and no less than six feet away from another person or family group.

Holy Communion will be distributed after Mass for those who wish.

Those who want to receive on the tongue are asked to wait till the end of the line.

Our current Mass schedule only allows about one-half hour between Masses to sanitize the church, so we ask you to arrive close to Mass time and depart quickly after Mass.

We appreciate some help (3 people after each Mass) to quickly sanitize the church so that we do not have to change the Mass schedule.

The new floor is being installed in the Hall beginning July 13

th, which means the regular bathrooms will be unavailable for use.

A portable toilet will be available.

The dispensation from the obligation to attend Sunday Mass remains in effect until further notice.

We encourage those who can attend weekday Mass to do so in lieu of Sunday to allow those who can only attend on Sunday to do so.

T

hose who are considered "high risk" because of age or underlying health conditions, or are experiencing Covid 19-like symptoms, should stay home.

This week

we will continue to

"Live Stream"

the 9am Sunday Mass on our

St. Pius X Church Facebook

(

https://www.facebook.com/saintpiusmiddletown

) page.

These can all be viewed at any time after they are recorded.
Comings and Goings -
The Province of St. Mary has announced the following assignments that affect St. Pius Parish. and the Capuchin Community here:
Fr. Martin Curtin, OFM Cap.
will be nominated to Bishop Cote as pastor of St. Pius beginning September 7.
Fr. John Gallagher, OFM Cap.
will move to Sacred Heart Friary in Yonkers, NY on September 14 as facility manager.
Fr. Ernest Bedard, OFM Cap.
will be nominated to Bishop Cote as Parochial Vicar of St. Pius beginning July 31.
Fr. Scott Surrency, OFM Cap.
will move to St. Francis Friary, Jamaica Plain, MA to complete his thesis and provide chaplaincy assistance.
Fr. Matthias Wesnofske, OFM Cap.,
retired, will become part of the Capuchin Community and provide parochial assistance.
Br. Brian Champoux, OFM Cap.
already a part of the Capuchin Community will become Guardian (local superior)
We will arrange some kind of welcome and send-off at a later date depending on the limitations for public gatherings. More information will be provided in the weeks ahead.
Parish Office:
The parish office is open at its usual hours.

Please wear a face mask if you come to the office.

Office hours are Mon – Fri, 8:30am to 4:30pm, Sat, 9:30am to 6:30pm, and Sun, 8:30am to 2:30pm.

You can always leave a phone message (860-347-4441) or email (
office@saintpius.org
) at other times.
Peace and every blessing!

Fr. John