The Pastor's Desk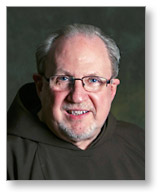 8/9/20
From the Pastor's Desk: 19th Sunday: – The three readings this weekend have a common focus: the experience of the caring love of God as the source of life and hope. It is expressed through the joyful and festive free meal in Isaiah, the compassionate concern of Jesus for the crowds in Matthew, and the sustaining love of Christ through all the challenges of life in St. Paul's letter to the Romans. This love is an unearned gift from God and finds its fulfillment in Jesus Christ. This abundant love is still given in our own experiences of joyful celebrations, of receiving good things from people who care for us, in growing through the crises and challenges if life. It is offered to heal our hearts, bodies, minds, and spirits – our whole beings. God's gift of love is for everyone! I hope and pray that your summer is allowing time for rest and re-creation!
Public Weekend Masses resumed as of July 4 – 5. For now, we will follow our regular schedule. The Governor's executive orders and Diocesan guidelines of May 27 and June 3 must be followed (e.g. face coverings must be worn, safe distancing practiced.)
There were 258 people, total, who attended the five Sunday Masses last weekend; 5pm – 40, 7:30am – 41, 9:00am – 68, 10:30 – 72, and 12 Noon – 37, a total of 258.

Last week there were 235 people.

By family seating and careful distancing, we are able come together safely as a parish community for worship.
We are able to fit 64 people (plus family members) in church maintaining the 6-foot safe distancing. Families and those who traveled together may sit together.
When the church hall reopens, it will accommodate an additional 60 people.
Please be sure to sit with a

BLUE CROSS

at your back, and no less than six feet away from another person or family group.
Holy Communion will be distributed after Mass for those who wish.

We ask those who will receive on the tongue to please wait till the end of the line.
Our current Mass schedule allows about one-half hour between Masses to sanitize the church, so we ask you to arrive close to Mass time and depart quickly after Mass.
The second stage of work on the church hall is nearing completion, hopefully, the bathroom will be available by next weekend.

The dispensation from the obligation to attend Sunday Mass remains in effect until further notice.

We encourage those who can attend weekday Mass to do so in lieu of Sunday to allow those who can only attend on Sunday to come.
Those who are considered "high risk" because of age or underlying health conditions, or are experiencing Covid 19-like symptoms, should stay home.
Although Connecticut is doing well in lessening the virus, we can't let our guard down. We need to prevent another surge.

Please keep your mask on at all times (except for Holy Communion) while in church.

A mantilla is not a face mask.
We will continue to

"Live Stream"

the 9am Sunday Mass (only) on our

St. Pius X Church Facebook

(

https://www.facebook.com/saintpiusmiddletown

) page.

We will also publish the homily of the 9am celebrant on the Facebook page each week.
This can all be viewed at any time after it is recorded.
Parish Office: The parish office is open at its usual hours. Please wear a face mask if you come to the office. Office hours are Mon – Fri, 8:30am to 4:30pm, Sat, 9:30am to 6:30pm, and Sun, 8:30am to 2:30pm. You can always leave a phone message (860-347-4441) or email (office@saintpius.org) at other times.
Peace and every blessing!

Fr. John