The Pastor's Desk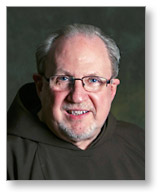 From the Pastor's Desk:
Pentecost
is an event for the whole Church.

St. Luke describes the Holy Spirit coming upon the 120 men and women in the midst of Jews from throughout the world, as a prelude to Peter's declaration that now the Spirit is poured out on "all flesh" (Acts 1.17).

St. Paul asserts that every person in the community receives a gift from the Spirit, which is essential to the well-being of the community.

St. John describes Jesus breathing the Holy Spirit into each disciple in a personal manner, thereby signifying that each person in his or her uniqueness is a witness to Jesus in the world.
Pentecost Sunday this year is like no other in anyone's memory.

Who could have imagined the impact that Covid 19 would have, and may still have, on the entire world?

Today's gospel tells us that Jesus "breathed on them" and bestowed the Holy Spirit upon them and sent them to share the gifts of the spirit with the whole world.

Who could have imagined that impact that bestowing of the Spirit would have, and will have, on the entire world? May we rejoice that God now dwells within human beings through the Holy Spirit that Jesus gives.

May we encourage every person in our community of faith to exercise his or her gifts so that the peace of God's kingdom may reign in our world.
***CoVid19 Update:
Bishop Cote has given permission for WEEKDAY ONLY Masses to be celebrated publicly beginning on Monday, June 8.
The maximum number of people allowed, including celebrants is 50.

Facemasks must be worn.

Details will be published in the parish newsletter this weekend and will be available in the narthex and on Facebook and the saintpius.org website.
We will continue to
"Live Stream"
the following events on our
St. Pius X Church Facebook
(
https://www.facebook.com/saintpiusmiddletown
)
page. Until June 8, weekday Masses will be celebrated in private honoring the requested intentions according to the norms distributed by the Vatican and Diocese and in conjunction with current State law. They are not open to the public:
Live Streaming on St. Pius Facebook Page:
Community Mass – Friars' Chapel, Monday through Saturday at 8:30am will continue
Sundays of Easter – at 9:00am (the church will be closed from 8:30am to 10am)
These can all be viewed at any time after they are recorded.
Communications:
We will continue to send weekly emails and attachments
with the latest information we have about on-line events and scheduling to those whose email address we have on file.

If we do not have yours and you would like to be included, please email your information to
office@saintpius.org
. A weekly homily is posted each Saturday on the parish website (
www.saintpius.org
) under the Weekly Bulletin tab.
Parish Support
– we appreciate the efforts of those who have been able to continue their support of the parish in these uncertain times.
We realize that many people's incomes are affected in these difficult times. As a tithing parish we place our financial well-being in God's hands trusting that God will give us what we need to do his work. Thank you for your sacrifices.

Fr. John