Youth Faith Formation
Grades 6 – 8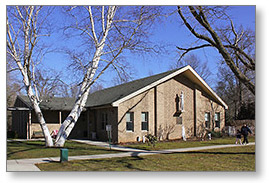 It is an amazing time in our lives – being parents of young adolescents! They seem to change and grow right before our eyes. Over three years they "try on" different personalities, hair styles, and clothing styles, what they liked this morning may not suit them by afternoon or visa versa. It is an awesome task for everyone involved as the students try their best to discover who they are and who they are called to be. Although not a sacramental preparation time, it is during this very time that they may most need to learn more about their faith and find ways to connect their faith to situations they are faced with in everyday living.
These programs are designed as a three-tiered process that leads to conversion and faithful living. Families share faith daily through lived practices and teachable moments, love and concerned care of one another. In Faith Formation Class they gather with their peers to explore their faith in ways that are age appropriate. Parish Life plays an additionally important role in the faith of an adolescent. Actively participating in the celebration of the Liturgy of the Eucharist (Mass) and joining in the community social and outreach activities, gives them the sense that they Belong and they are needed! It becomes their own parish not just that of their parents.
Two choices for classes are available: (September-May)
Monday, 7:00 – 8:15 PM
Tuesday, 7:00 – 8:15 PM

All students have received their Sacraments of Baptism, Reconciliation, and First Eucharist. Copies of Sacramental certificates must be provided and will be kept in their personal formation file. Annually, in March of the current academic year, parents must reenroll their child for the coming fall by completing a Faith Formation Registration Form and update the Student ID Form.
Grade 6
Students journey deep into the Bible, exploring the Old Testament, meeting the earliest believers and followers of God, who remained faithful awaiting the coming of the promised Messiah. Through trials and tribulation, famine, slavery, wars, ruled by unjust governmental leaders, they remained steadfast in the faith. Many of whom they will meet and hear stories about are today's Saints , and are Christian role models for them.
Grade 7
Students explore and enrich their growing faith by using an interactive thematic approach. Covering three themes Jesus Christ, The Trinity, and The Kingdom of God, students continue their Bible journey in the New Testament. Interwoven are Church feasts and seasonal activities, as well as the playing of faith-knowledge games.
Grade 8
Students round this last middle school year, continuing their Bible journey in the New Testament and the Catechism of the Catholic Church, using the interactive thematic approach of covering three themes, The Church, Revelation and Morality. Interwoven are Church feasts and seasonal activities, as well as the playing of faith-knowledge games. A Grade 8 Retreat mini experience is introduced, preparing the student for the Retreats and Prayer Rites they can expect ahead as high school students in the Confirmation Preparation Program.
For additional adolescent programs please see our ST. PIUS X YOUTH MINISTRY and PEER MINISTRY

Downloads